POINT 7 ...... Less drastic alternatives should be tried before beach closure.   San Diego has ignored known alternatives and striven to fail at shared use, to create a crisis.
a) San Diego has been fostering crisis in preference to making the effort to resolve its problems.  San Diego Council of Divers proposed solutions and cooperative plans to the City before 2010, but was ignored.  The overflow of seals onto South Casa Beach in 2007 was reported and the City did not respond.  San Diego is still in denial.
b) San Diego allowed activists to set up an unpermitted business on the sidewalk and accost and bully citizens.
It claimed it was bound by free speech laws until counter groups set up too. Then permit laws were finally enforced.   Free speech included using bullhorns to cover the entire beach and the City also did nothing until both sides got bullhorns.  Without will to govern, the alternative has been to blame the victim.
c) San Diego tried to let escalation force other agencies to share the responsibility.   NOAA finally gave up trying to influence by suggestion, and backed away.   San Diego now turns to the Coastal Commission to underwrite a program of repression for convenience.  Our crime: was believing the signs you make the city put up identifying the Children's Pool as an open public beach.     
d) All other suggestions by community groups and resident associations were discarded.   The most reasonable of these was by experts, the Children's Pool Lifeguards.   The Lifeguard Union Plan simply divided the beach the other way, to allow both species shore access, and moved the cut according to seasonal needs of the seals.   The concept first suggested boulders, natural materials able to withstand tides, which the City rejected without making any counter proposal.   The City never contacted the lifeguards or attempted to resolve the misconceptions.  A real solution could never be as cheap and easy as lock and chain.
e) Citizen groups responded to the deadlock and worked out changes that allowed simpler demarcations and specified though people would stay out of "seal territory", the boundaries would be visual only and seals could go anywhere, any time.   The City refused to acknowledge offered solutions, and continues to claim it has tried everything, that only closure is left, so the Commissioners simply have no choice.
f) Please see the PLAN.    NOTE: in this plan, seals are never constrained, only people.
g) The former head lifeguard who wrote up the plan is now an interim City Council member, Ed Harris.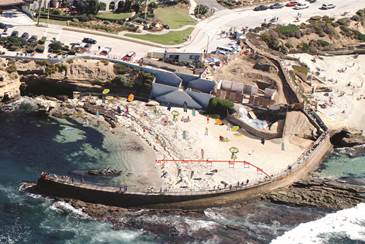 The Beach in summer when the few seals stay by the sea wall to stay cool.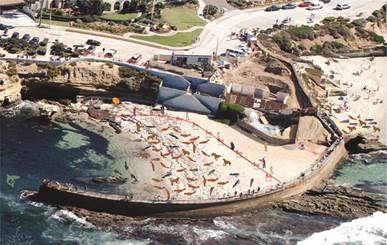 The beach in winter when the people would be constrained to the outskirts of the beach but had a path to the water..