POINT 2.....The Coastal Commission must consider the balancing section of the Coastal Act under 30007.5 when evaluating the most significant resource of human safety and public access provided at Children's Pool.
.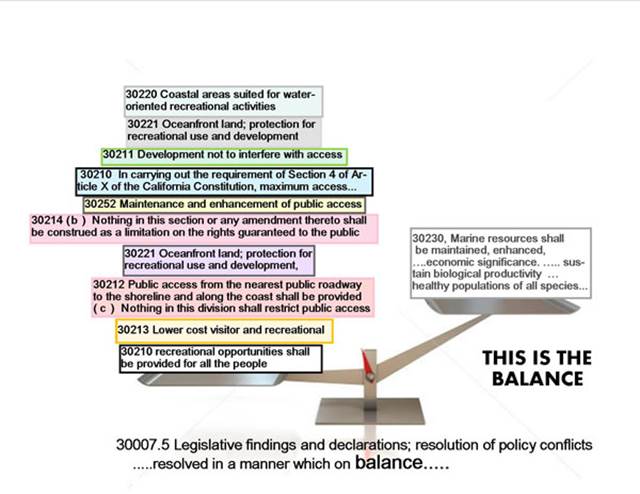 Section 30512.2(b):
The following provisions shall apply to the commission's decision to certify or refuse certification of a land use plan pursuant to Section 30512: That does not allow an LCP to conflict with the Coastal Act or other state laws.
(b) The Commission shall require conformance with the policies and requirements of Chapter 3 (commencing with Section 30200) only to the extent necessary to achieve the basic state goals specified in Section 30001.5."(Emphasis added.)

California Coastal Act, Section 30001.5 states:
"The legislature further finds and declares that the basic goals of the state for the coastal zone are to:
. . .(c) Maximize public access to and along the coast and maximize public recreational opportunities in the coastal zone consistent with sound resources conservation principles and constitutionally protected rights of private property owners."

Section 30007.5 is not available unless advancement of one Coastal Act policy requires the compromise of another. "The Legislature further finds and recognizes that conflicts may occur between one or more policies of the division. (The Coastal Act, not conflicts with other state laws) See next item.

Section 30005.5.  Nothing in this division shall be construed to authorize any local government, or to authorize the commission to require any local government, to exercise any power it does not already have under the Constitution and laws of this state or that is not specifically delegated pursuant to Section 30519.